Company Outline
Company Name

Rock Store House Co., Ltd.

Location

7F, BPR place kamiyatyou Bld., 1-11-9, Azabudai, Minato-ku, Tokyo, 106-0041, Japan
TEL / +81-3-3588-6789 FAX / +81-3-3588-5678
E-Mail / info@rsh.co.jp

The personal information obtained from the inquiry email addressed to our contact wil be
used only when responding back to the inquiry.
Executive Director

Nobuhiko Iwakura

Director

Teruaki Ito
Toshiaki Mori

Established

October 19, 2006

Capital Stock

¥10,000,000

Employees

60(including contract employees)

Financial Institution for Business Transactions

Nihonbashi Branch Bank of Tokyo-Mitsubishi UFJ
Main Clients
(In alphabetical order)

iret, Inc.
NTT Data Corporation
NTT Data System Technologies Inc.
Osaka Exchage,Inc
KADOKAWA Connected Inc.
GREE, Inc.
Sony Global Solutions Inc.
DeNA Co., Ltd.
DTS Corporation
Net One Systems Co., Ltd.
Fujitsu Limited
Pokelabo, Inc.
Realize Corporation
REALITY, Inc.
Privacy Mark certification number:22000083(07)
Worker Dispatch Operations report processing number:特13-312324

Organization Chart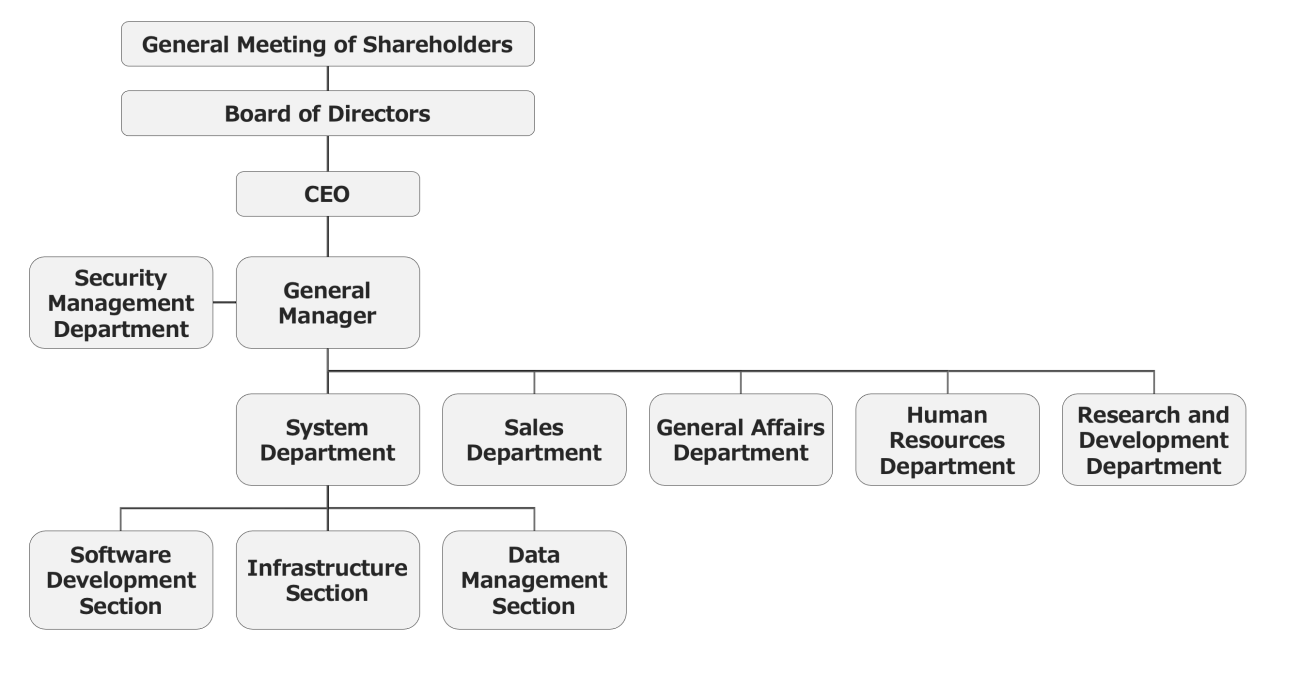 Main Operations
Consulting the internet service users, as well as offering requirement definition, planning, development, application, maintenance, and inspection services.
Providing all types of internet community sites and content services
All business about data management
Requirement definition, planning, development, application and maintenance of the software involved in the system architecture
Strengths of Rock Store House
Mergers and merger integrations have become a current trend for all types of businesses and it drives the definite need for migrating various systems each enterprises possess into a single entity. There are countless numbers of companies in Japan that develop systems. However, we expertize in migration and have achieved successful outcomes in migrations mainly with large metropolitan banks and securities companies, we have conducted successful migrations in the past.

What is migration? The word "migration" has several meanings to it. The simple example that would help explain this word would be the process of data transfer, including phone numbers and e-mail addresses, from the old cell phone to new cell phone when renewing it. This action is called migration,in this case, "data migration". In the business world, this would mean the merging companies A and B,having different accounting and other systems of their own, to unite it into a single system to avoid any unnecessary running cost incurring. Such comprehensive process often found when there is a merger is known as the "migration".
Market Size in the Future
The market size is currently growing with the recent trend in mergers and M&A by inter-corporate consolidations and integrations.The number of the potential clients is unpredictable.
Expansion of Future Operations
In order to respond to the expanding market, we believe that contining to increase personnel numbers,in addition to developing original programs that can be used across all businesses and systems, will shape you into an opinion leader in the field of migration companies.We also aim to expand the scope of our operations beyond migrations to disperse sales earnings, so the company can can opere under any market conditions it would encouter in the future.